Thais Biazioli de Oliveira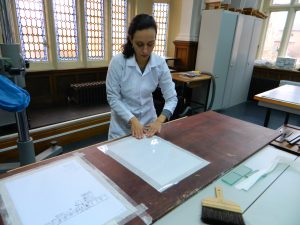 Determined to work with conservation Thais Biazioli de Oliveira attended in 2007 the course on Preservation of Graphic Documents at ABER/SENAI which provided her with important technical skills and ethical responsibilities.
Her abilities in team working, leadership and problem solving alongside her technical and theoretical developments during this course were determining for an indication to work at the Public Achieves of São Paulo in the following year.
Between 2009 and 2013 she further enhanced her abilities attending courses, seminars and working on multiple projects at Expomus, a renowned Brazilian museum service company.
The keenness to improve her practical skills as a paper conservator has lead Thais to the Masters at Northumbria University in 2014, having Jane Colbourne as a tutor. This eye-opening opportunity honed her analytical thinking in conservation and contributed to personal and professional growth.
Thais research project for Tech for Culture PhD program at Torino University anticipate contributions to long-term collection care and consolidation of artworks of Letraset®.
Descriptions of Letraset® composition, its degradation processes and consolidation recommendations are expected outcomes of her doctorate which is likely to include accelerated ageing tests and a range of technical analysis methods such as ATR-FTIR, py-GC-MS and LC-MS.
Tech4Culture Fellow – Call 2 (2019)
Supervisor: Dominique Scalarone, Chemistry Department