Ahmad Nasrolahi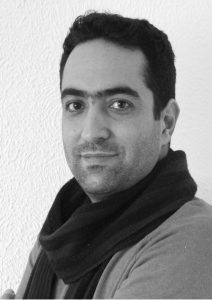 Bio
Ahmad Nasrolahi is a conservator-restorer in the field of historical buildings and sites. He received his bachelor's and master's degrees in 'Restoration and Renovation of Historical Textures and Buildings' in Iran. After graduating, he has been working for the Iranian Cultural Heritage Organization at Bam and Soltaniyeh World Heritage Sites. He has also done several research projects on different aspects of heritage protection as well as using new technologies in the management of cultural heritage sites. Ahmad gradually changed his focus from the conservation of architectural materials to the engagement of the local community in the preservation process.
Therefore, he has completed a second master's (dual-degree) in 'International Cooperation in Urban Development and Planning' at the University of Darmstadt (Germany) and the Grenoble University Alpes (France). Now, he is working on local people's participation in cultural heritage management by using technologies to achieve maximum participation as part of his research project. In fact, he is adapting urban planning approaches to cultural heritage management via new technologies like smartphone applications.
Thesis Title
Community Participation in Conservation of World Heritage Site by Using Smartphone Application Case Study: Bisotun World Heritage Site
Abstract
Since the Venice Charter in 1964, public participation in cultural heritage, especially when it comes to preservation, has been a concern (Europe, 2017) and this is still the case today. This approach has also been highlighted in World Heritage documents. The Faro Convention (Europe, 2005) adopted a shift in focus from the conservation of cultural heritage values to the value of cultural heritage for society. In this case, it is necessary to engage the public and local people in all stages of cultural heritage conservation and management. According to this convention, cultural heritage institutions inevitably have to apply a participatory approach involving the public. This research intends to investigate a potential method for implementing community participation at the Bisotun World Heritage Site in Iran. The second objective is to design a mobile application that can facilitate community participation at the site through a participatory approach.
The study employs a qualitative, case-study-based methodology. The research was conducted within a local community that is affected by a protected area (the landscape zone of the Bisotun World Heritage Site) as a way to find out how those affected people can be included in the decision-making process. The Bisotun World Heritage Research Base, which was set up in 2000 as a national research center and designated as a world heritage site in 2006, is in charge of preserving and managing the Bisotun landscape zone. The Research Base, which served as the government organization in this study, has long wished to involve the local community in the conservation and management of the Bisotun landscape zone.
Based on international documents about the community-based participation approach, the government organization, and the local participants, the iCommunity application's needs and requirements have been figured out, and a digital prototype of the application has been made using Adobe XD software. Then the prototyped application was repeatedly modified in order to provide a standard mock-up. The results of this research show how the local community can be involved in making decisions about the Bisotun World Heritage Site. Moreover, the iCommunity mobile application was prototyped using a participatory approach based on the real users' needs and desires. It also provides guidance, strategies, and challenges for long-term effective community participation at the Bisotun World Heritage Site.
Tech4Culture fellow – Call 2 (2019)
Supervisor: Vito Messina, Historical Studies Department